NIPAS Emergency Services Team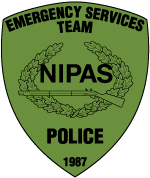 In the fall of 1987, NIPAS expanded its mission by creating a special tactical squad known as the Emergency Services Team.
Member agencies can deploy the Emergency Services Team for hostage/barricade incidents, high-risk warrant service, major crime scene searches, search and rescue missions, dignitary protection, and similar tactical incidents. The team follows the original principles of NIPAS… agencies pooling their resources to provide the best service possible for their communities, the retention of local control, and cost savings through the sharing of specialized equipment. Member agencies participate in the Emergency Services Team voluntarily. However, if they choose not to supply resources to the team, they may not request its services.
In 1989, the Emergency Services Team acquired a fully equipped mobile command post, and in 2001, the team acquired an armored rescue vehicle. In 2006, the Emergency Services Team purchased a new fully equipped mobile command post, and in 2010, the team acquired an equipment transport truck. A NIPAS member agency maintains each of these vehicles and equipment.
Team members are selected through a careful screening process which includes physical agility, media, psychological, and interviews. The prospective member must pass a Basic Emergency Services Team course as well as Advanced Emergency Services Team course. Through this selection process, NIPAS is able to provide the best officers possible for emergency response.
The team is structured in nine units for more efficient use during high risk situations. Each unit has a unique function, although most units are cross-trained to provide backup in certain situations. Units include coordinator, assistant coordinators, entry, containment, marksmen, negotiations, tactical medical emergency services, canine, and support services.
The team provides professional, efficient, and cost effective response to high risk situations for its member agencies.