NIPAS Mobile Field Force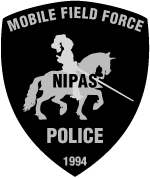 The NIPAS Mobile Field Force was created in the Spring of 1994 to maximized the effectiveness of initial response efforts by police when a major civil disturbance occurs. Civil disturbances, union conflicts, public demonstrations, and other events involving large or disorderly crowds require skillful response by police agencies.
Identical to the Emergency Services Team, the Mobile Field Force follows the original principles of NIPAS… agencies pooling their resources to provide the best service possible for their communities, the retention of local control, and cost savings through the sharing of specialized equipment. Member agencies participate in the Mobile Field Force voluntarily. However, if they choose not to supply resources to the team, they may not request its services.
The social, economic, and political mood of our country, as well as other countries, raised the speculation that the 1990s and beyond may be trying times, and civil unrest could occur. To effectively deal with events such as labor-related conflicts, as well as social and political demonstrations, NIPAS adopted the Mobile Field Force concept. The Mobile Field Force program is designed to provide rapid, organized, and disciplined response to civil disorder, crowd control, or other tactical situations.
The NIPAS Mobile Field Force provides its member agencies with a planned, organized, and rapid response to:
control unruly crowds (either hostile or passive);
seal off problem areas, regardless of size;
rescue citizens or officers from crowds;
clear an area of hostile individuals by use of proactive tactics; and
apprehend multiple offenders, if required.
The team provides professional, efficient, and cost effective response for its member agencies.